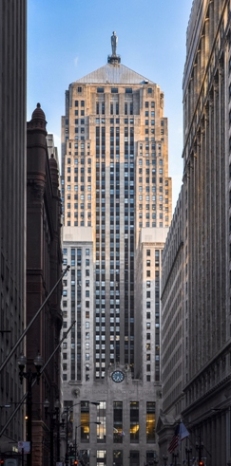 Chicago Board of Trade Building
Chicago is an international destination for commerce, finance, industry, technology, and telecommunications. The city has the second largest business district in the United States and is home to numerous corporate facilities. United Airlines' corporate headquarters is located in Willis Tower (formerly Sears Tower), one of the tallest buildings in the world. Chicago is the location of the national headquarters of Alpha Kappa Alpha Sorority, Inc., the first sorority established by African-American college women. The sorority's headquarters building is a Stony Island Blvd. landmark in Chicago. Chicago also has the third largest science and engineering work force in the United States.
Chicago is also known for culture and shopping. As a cultural gateway, Chicago offers art galleries, ballet, museums, operas, parks, and symphonies. Sports entertainment includes the Chicago Bears NFL team, Chicago Bulls NBA team, Chicago Sky WNBA team, and the Chicago Cubs MLB team. In pop culture, several Chicago specialty food stores and restaurants are widely known: Garrett Popcorn (one of Oprah's favorite things), Chicago Pizza & Oven Grinder, and Billy Goat Tavern.
Chicago's world class shopping can be found on Michigan Avenue, the Magnificent Mile. Shopping on the Mile includes boutiques, specialty shops as well as department stores. Macy's on State Street in Chicago is one of four flagship stores in the Macy's chain.
Is it any wonder that Chicago is also the top destination for meetings and conventions?